Today I spent £8 to go and see the Anish Kapoor exhibition at the Royal Academy. The £8 was a bit steep for a student price, but I reluctantly handed over my food money for half the week anyway. But I can tell you now, it was worth it. This stuff is good. Not in a bollocky artsy appreciation way, it's just good. It's interactive (not as much as I'd like) and not your usual pretentious modern art stuff (unless you read the leaflet, then it gets abit poncey). My camera is at home, so these photos are curtesy of the
Royal Academy
website and google images.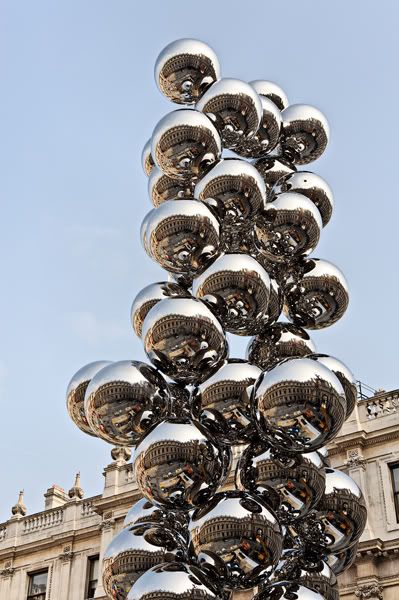 This was the taster bit outside the gallery. If you stand right below it and look up it really looks like the thing is moving. Fucking clouds being so deceptive. Nice seeing yourself from so many different angles too.
Thats the cool mirror room where you can see what you'd look like if you were in a Tim Burton film (REALLY THIN) or if you were in some sort of warped, space/time mishap. TIP: running at the mirrors multiplies the fun tenfold, but annoys the guards.
This room was full of a lot of strange squiggly cement things. Looked a bit like wet sand or toothpaste. Not my thing but was well recieved by others.
YES that IS a massive block of wax being pushed through the wall. You saw it here first. TIP 2: don't touch the wax, it's not as nice as it looks. This also annoys the gurads, but if you do it when they're not looking it's fine.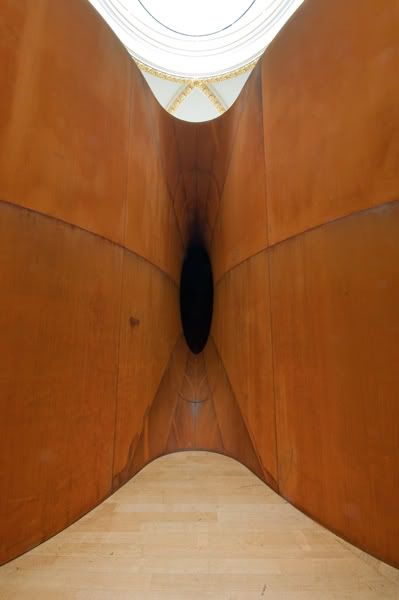 Didn't realise at the time how much this looks like a vage. I stood right inside there as well, thanks for that Anish.
This was actually my favourite piece. It's alot bigger than that man makes it look. I like to feel inadequate and small compared to art work, so this got extra points. The red shiny stuff looked like a fancy toilet seat cover. Apparantly this has "obvious" sexual connotations, but nothing compared to that fanny before.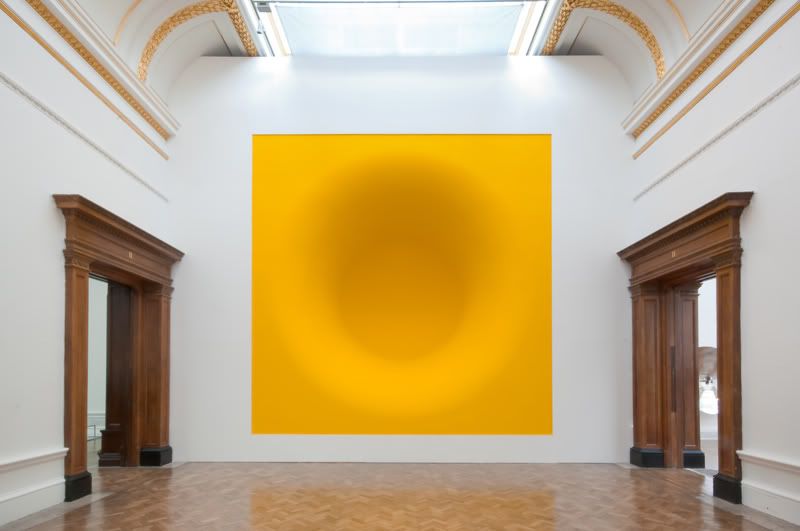 This was an eye fuck. That's a big hole in the wall, but it looks fake, but it's not, but you're eyes think its just shadow .... yeah.
This was the finale. You wait around for 20 odd minutes, then a guy in a boiler suit comes and loads a big block of red wax into the cannon, stands around building up the tension for a couple of minutes, then fires the wax at that wall, then goes and sits back down again. I like stuff like that.
All in all this gets 2 thumbs up and 8.5/10. Seeing your childhood memories of Babybel wax being shoved through walls is a nice feeling, although I was concerned about who was going to clean it up. That wax fucking stains.
From Katy
<3