Notting Hill Carnival is far too manic to take a big old distracting/very breakable camera to, so here are a couple of terribly good quality phone pics. And a fun remix of a song I heard about 12 hundred times on that Monday.
If you've ever been in a riot or Oxford Street on Christmas Eve or a Tesco at 22.59 outside any AA meeting; carnival is something approaching that kind of number of people. You can feel the music as soon as you get out of the tube, literally, it's like if thunder had an African rhythm. The atmosphere is just "good time"; everyone's drinking, eating, dancing, plus some shouting (saw a girl get dropped on her arse, but she was punching the guy in the face so I don't really blame him much for letting go). Yeah, carnival is lots and lots and lots of fun. I advise anyone who wants to see millions of people have an amzing time celebrating their Reggae Reggae roots (eh eh?) while getting pretty daaaarn drunk and high, to definitely GO; put it on your "things to do in life" list, which I know you all have.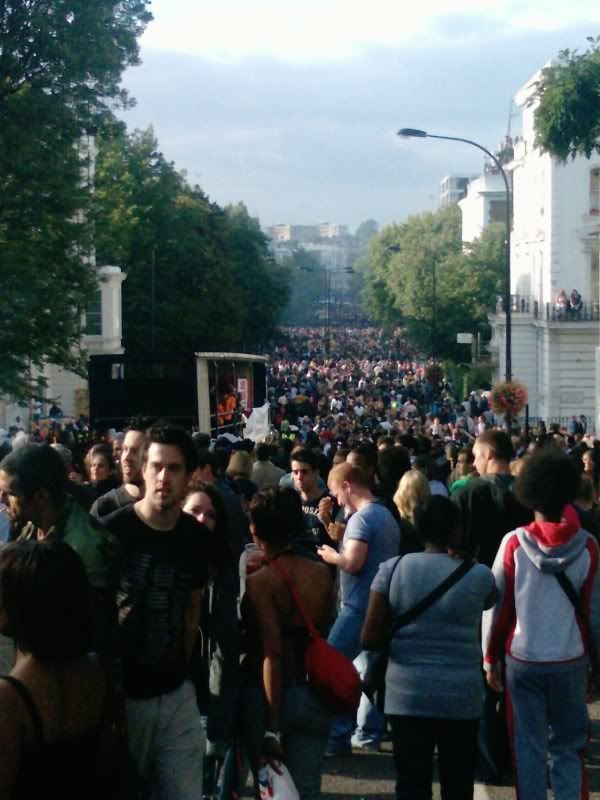 "feel da rhythm mon". This beat is everywhere and it's infectious.